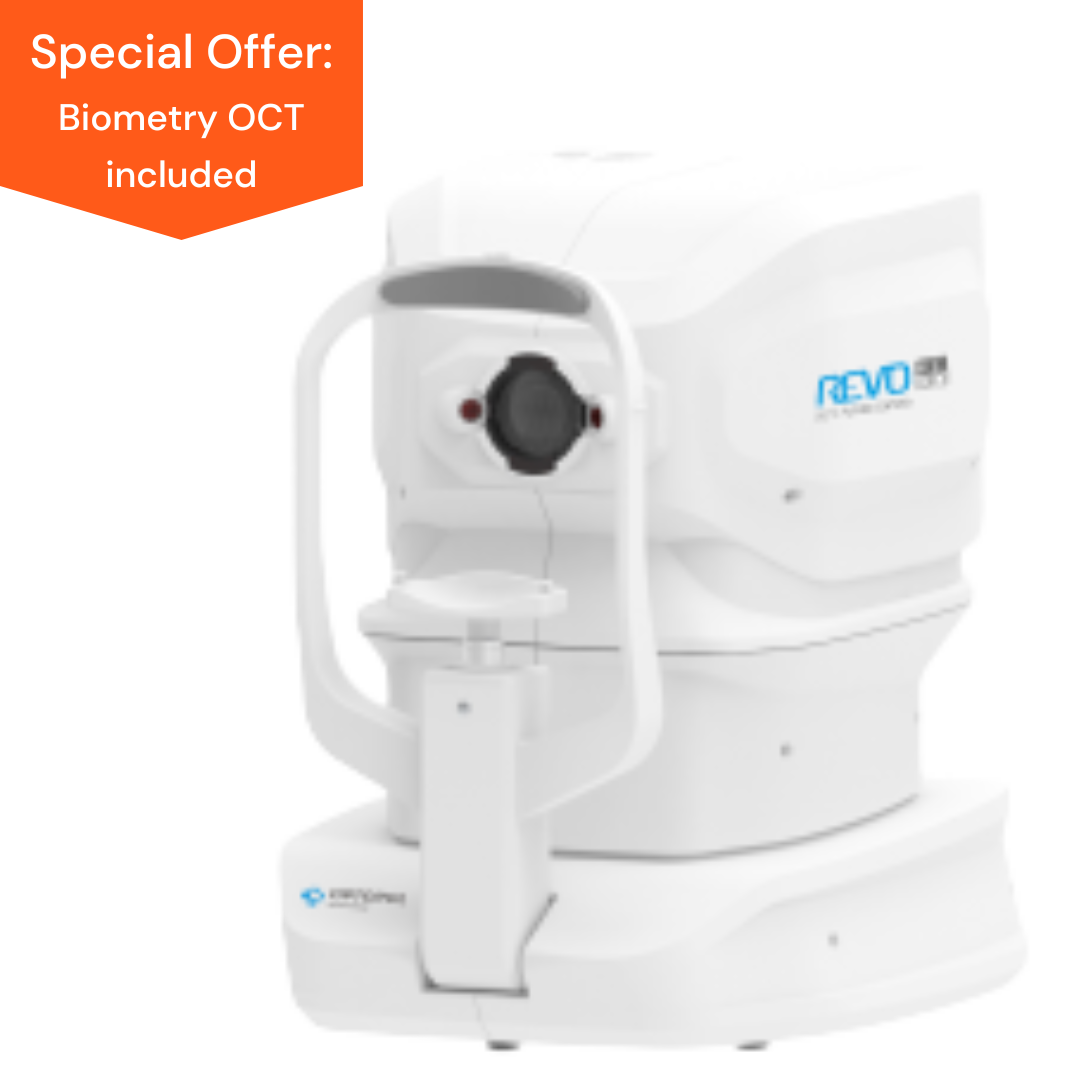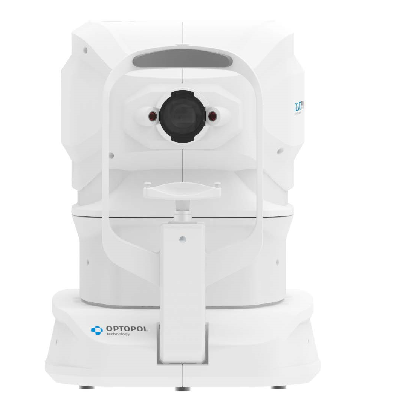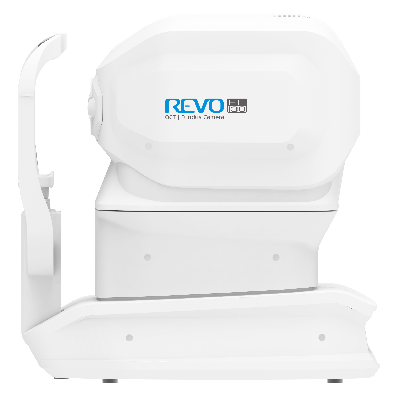 Optopol
REVO FC130
Fundus Camera
130,000 A-scans a second. The unique, fully automated integrated non-mydriatic 12.3 megapixels Fundus Camera with AccuTrack – Real Time software eye-tracking.
Delivering beyond the expectations of a modern OCT
The REVO FC 130 includes a high-quality built-in 12.3 MP camera and a wide range of applications.
An all-in-one OCT with true colour fundus imaging and hardware eye-tracking, it offers versatility for time and space efficiency.
REVO FC130 features:
biometry device with IOL calculations.
topography
anterior segment imaging
high-quality OCT imaging including OCT-A.
combined OCT and fundus images.
Fundus Camera
Full-colour up to 45°.
Suitable for diabetic retinopathy screening.
Colour fundus image capture is possible with a pupil as small as 3.3mm.
Easy-to-use fundus image processing tools deliver a stunning retinal image.
Chronological comparison of the fundus photo.
Link a single fundus photo to several OCT scans.
IR fundus preview and photo capture settings are adjusted automatically.
A truly unique solution
Easy to use image processing tools such as RGB channel, brightness, contrast, gamma and sharpness adjusters used with filters deliver a stunning retinal image.
Available view modes present detailed photos of a single or both eyes as well as a time comparison of fundus photos.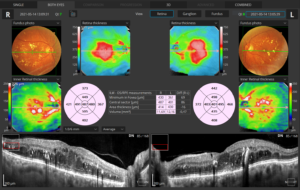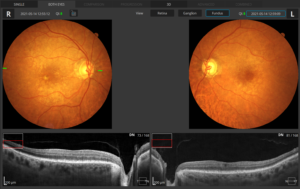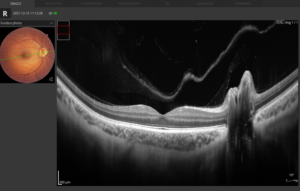 Description & Technical Specs
REVO FC130
FUNDUS CAMERA

Type

Non-mydriatic fundus camera

Photography type

Colour

Angle of view

45° ± 5% or less

Min. pupil size for fundus

 3.3 mm or more

Camera

12.3 Megapixel CCD camera

CAMERA MODES

Photography

Fundus (Retina, Central, Disc, Manual fixation), Anterior photo,

Flash adjustment, Gain, Exposure

Auto, Manual

Intensity levels

High, Normal, Low

OPTICAL COHERENCE TOMOGRAPHY

Technology

Light Source

SLED, Wavelength 850 nm

Bandwidth

50 nm half bandwidth

Scanning speed

130 000 measurements per second

Axial resolution

2.8 μm digital, 6 μm in tissue

Transverse Resolution

12 μm, typical 18 μm

Overall scan depth

2.8 mm / ~6 mm in Full Range mode

Min. pupil size for OCT

2.4 mm

Focus adjustment range

-25 D to +25 D

Scan range

Posterior 5 mm to 15 mm, Angio 3 mm to 12 mm,
Anterior 3 mm to 18 mm

Scan types

3D, Angio*, Full Range Radial, Full Range B-scan, Radial (HD), B-scan (HD), Raster (HD), Cross (HD), TOPO, AL

Fundus alignment

Live Fundus Reconstruction

Alignment method

Fully automatic, Automatic, Manual

Fundus Tracking

Accutrack – active real time , iTracking

Retina analysis

Retina thickness, Inner Retinal thickness, Outer Retinal thickness, RNFL+GCL+IPL thickness, GCL+IPL thickness, RNFL thickness, RPE deformation, MZ/EZ-RPE thickness

Angiography OCT

an optional software module to purchase

Vitreous, Retina, Choroid, Superfi cial Plexus, RPCP, Deep Plexus, Outer Retina, Choriocapilaries, Depth Coded, SVC, DVC, ICP, DCP, Custom, Enface, FAZ, VFA, NFA, Quantifi cation: Vessel Area Density, Skeleton Area Density, Thickness map

Glaucoma analysis

RNFL, ONH morphology, DDLS, OU and Hemisphere asymmetry, Ganglion analysis as RNFL+GCL+IP and GCL+IPL,
Structure + Function

Angiography mosaic

Acquisition method: Auto, Manual
Mosaic modes: 10 x 6 mm, Manual up to 12 images

Biometry OCT

an optional software module to purchase

AL, CCT, ACD, LT, P, WTW
IOL Formulas: Hoffer Q, Holladay I, Haigis, Theoretical T, Regression II

Corneal Topography Map

an optional software module to purchase

Axial [Anterior, Posterior], Refractive Power [Kerato, Anterior, Posterior, Total], Net Map, Axial True Net, Equivalent Keratometer, Elevation [Anterior, Posterior], Height, KPI (Keratoconus Prediction Index)

Anterior

No adapter required even for wide scans e.g. Angle to Angle

Anterior Chamber Radial, Anterior Chamber B-scan, Pachymetry, Epithelium map, Stroma map, Angle Assessment, AIOP, AOD 500/750, TISA 500/750, Angle to Angle view, Wide Angle, Wide Cornea

Connectivity

DICOM Storage SCU, DICOM MWL SCU, CMDL, Networking

Fixation target

OLED display (The target shape and position can be changed), External fixation arm

Dimensions (LxWxH) / Weight

479 × 367 × 493 mm / 30 kg

Power supply / consumption

100-240 V, 50/60 Hz / 90-110 VA
Optopol reserves the right to modify the product or product features at all times without notification.