Five minutes with David Killengray

This year, Spectrum moved into the dry eye market in the UK with the launch of the OptiClear IPL for the treatment of dry eye disease (DED) and a 3nethra classic HD fundus camera for the diagnosis of DED.
David Killengray, Spectrum's Managing Director discusses the company's activities in this key area and its plans for the future.
Can you tell us about Spectrum's move into dry eye disease?
Dry eye disease (DED) is an area of significant concern as it affects people of all ages. Around 85% of the population suffer from some form of dry eye. It's one of the most common conditions optometrists see in their clinics. It has a significant impact on patient quality of life, with symptoms that can include foreign body sensation, pain, blurred vision, dryness, or watery eyes.
Our new arrival, OptiClear IPL uses light energy to rejuvenate Meibomian glands. It ultimately unblocks the glands to relieve the debilitating symptoms. It can also improve the outcomes of other vision treatments. Just four treatments are required, and it's suitable for patients up to age 80-plus.
Many patients can benefit from pre-surgical treatments for dry eye. We're seeing a growing number of optometrists starting to offer these treatments. Spectrum is on course to roll out the OptiClear IPL nationally. One of our first clients is Newbury optometrist Valarie Jerome. She told us she is pleased she can now offer a "pain-free, effective long-term treatment for my dry eye patients."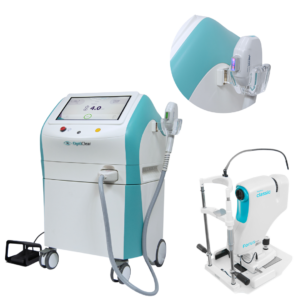 What does being part of AddVision bring to Spectrum?
AddVision is a pan-European network – with offices in Germany, Austria, Switzerland, Poland, Sweden and the UK. It specialises in high-quality ophthalmic products, technologies, and services. Being part of this unique organisation means we can offer clinics and surgeons speedy access to a wider offering of the best ophthalmic products and technologies. For suppliers and strategic partners who meet our quality standards, our vast network provides access to the European market and beyond.
Locally, we have many years of industry experience and within the AddVision group we have a specialist function to find and help bring to market new technologies from suppliers around the world. These resources allow us to be agile and at the leading edge of new ophthalmic technologies.
What does the future hold for Spectrum?
This year we're aiming to increase annual turnover by more than 15%, adding more products and expanding the sales team. We plan to extend our product range to complement key areas like DED and further explore the area of AI in ophthalmic diagnosis in a range of conditions.
We have several exciting technologies already in review. One product has the potential to increase the efficiency of diagnosis for optometrists and ophthalmologists through a cloud-based approach.