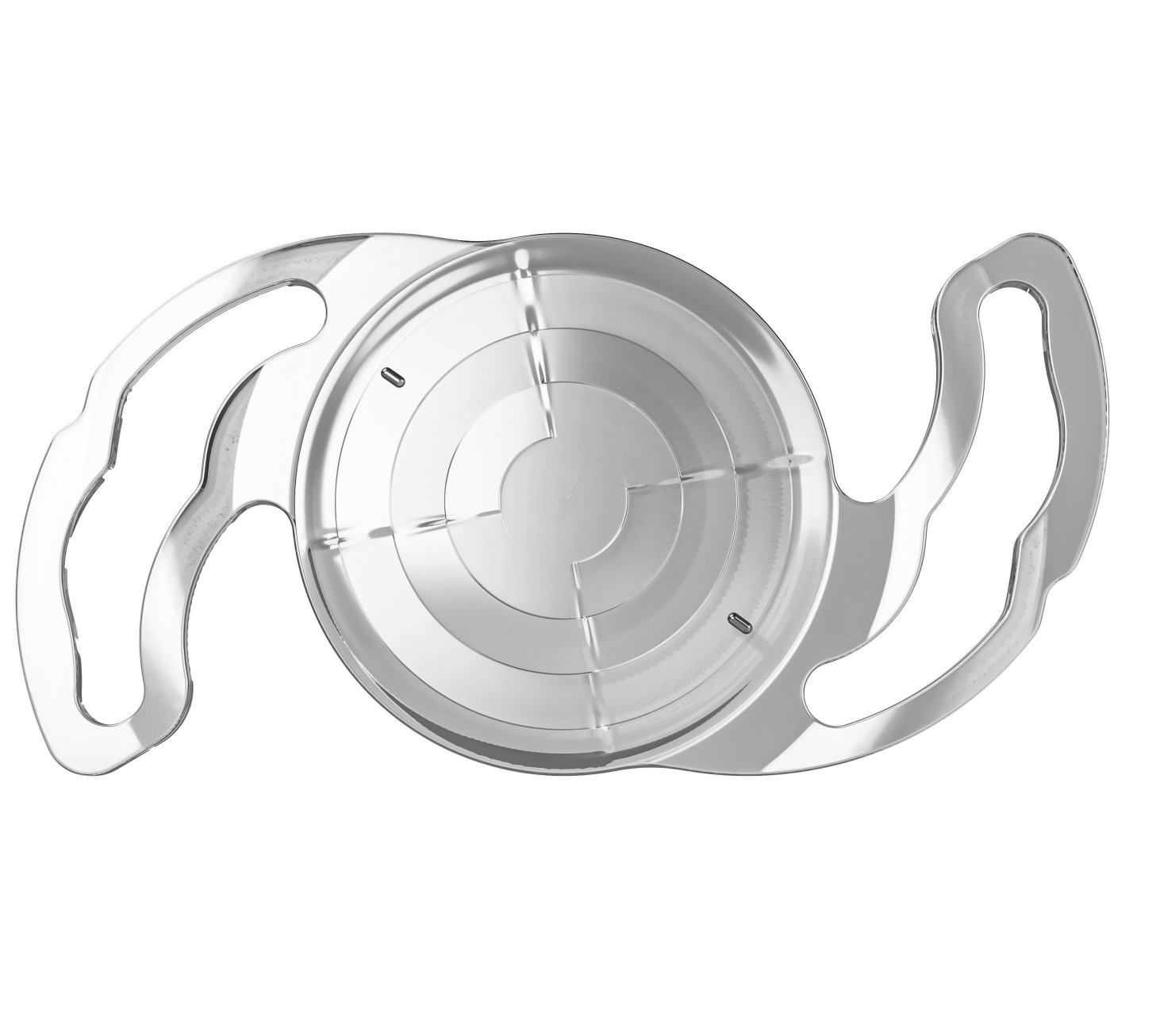 Ophtec Precizon Presbyopic Toric IOL
Precizon Presbyopic is a hybrid, acrylic IOL designed to correct Presbyopia and Astigmatism.
For the correction of presbyopia, this lens has a multiple segments optic, CTF (Continuous Transitional Focus) for far and near, on the anterior surface. A smooth transition from far to near is achieved between these segments. This transition offers a constant defocus between the two sharp focal points, delivering excellent intermediate vision.
A  TCT (Transitional Conic Toric) optic is the foundation of the multifocal segments. A TCT optic is tolerant of misalignment because different conic constants are calculated. Not only on the horizontal and vertical axis, but also between 0 ° and 90 ° degrees.
The patented TCT and CTF technology sets the Precizon Presbyopic Toric IOL apart from other toric presbyopic corrective IOLs on the market.
This lens has a broad central zone. The visual axis passes through the wider central segment avoiding visual disturbances by the Kappa Angle.
Natural Vision at all distances
The CTF aspheric surface forms a broad beam of light, a zone with an enhanced depth of focus with uninterrupted high-quality images for the brain to translate into clear vision at all distances
Tolerance of misalignment
In a significant percentage of cases, IOLs tend to rotate a few degrees before they stabilize. This leads to a loss of quality of vision in regular toric IOLs. The TCT optic however is designed to be more forgiving to decentration with less loss of quality of vision
Reducing Glare & Halos
Using segments instead of concentric rings reduces photonic phenomena, allowing patients to adapt more naturally to their new vision
Description & Technical Specs
Description & Technical Specs

Specifications:

Model:
575 Precizon Presbyopic Toric
One piece IOL
Optic type:
Aberration Negative (- 0.11 μm) Continuous Transitional Focus (CTF) optic
Central far zone size Y/X:
1.4 / 2.6 mm
Rotated segments width:
0.60 mm
Number of segments rings:
3 n
Refractive Index:
1.46
Abbe number:
47
Optic Powers:
Sphere: +5.0 D to + 34.0 D (0.5 D increments) * / **
Cylinder: +1.0 D to + 6.0 D (0.5 D increments)
Power add +2.75 D.
Haptic configuration:
Open modified C-loops with offset shaped haptics
Lens Material:
Hybrid hydrophobic & hydrophilic monomers. Ultraviolet filtering HEMA/EOEMA copolymer
Lens colour:
Clear
Body Ø:
6.0 mm
Overall Ø:
12.5 mm
Haptic Angle:
0°
Centre thickness range:
0.8 to 1.3 mm
Body edge thickness:
0.4 mm
A-constant ultrasound:
118.0
A-constant optical:
118.8 (SRK T)
118.8 (SRK II)
0.126 (Haigis aO)
0.355 (Haigis a1)
0.157 (Haigis a2)
5.51 (Hoffer-Q pACD)
1.72 (Holladay 1 sf)
1.78 (Barrett suite LF)
0     (Barrett suite DF)
Light distribution
40/60 near/far

* The minimum Sphere power is 1.5 + C e.g. 575A107TY10 =  S5.0 & C3.5 (1.5+3.5=5.0)
** The maximum Sphere power is 35 – C e.g. 575A111TY59 = S29.5 & C5.5 (35-5.5=29.5)