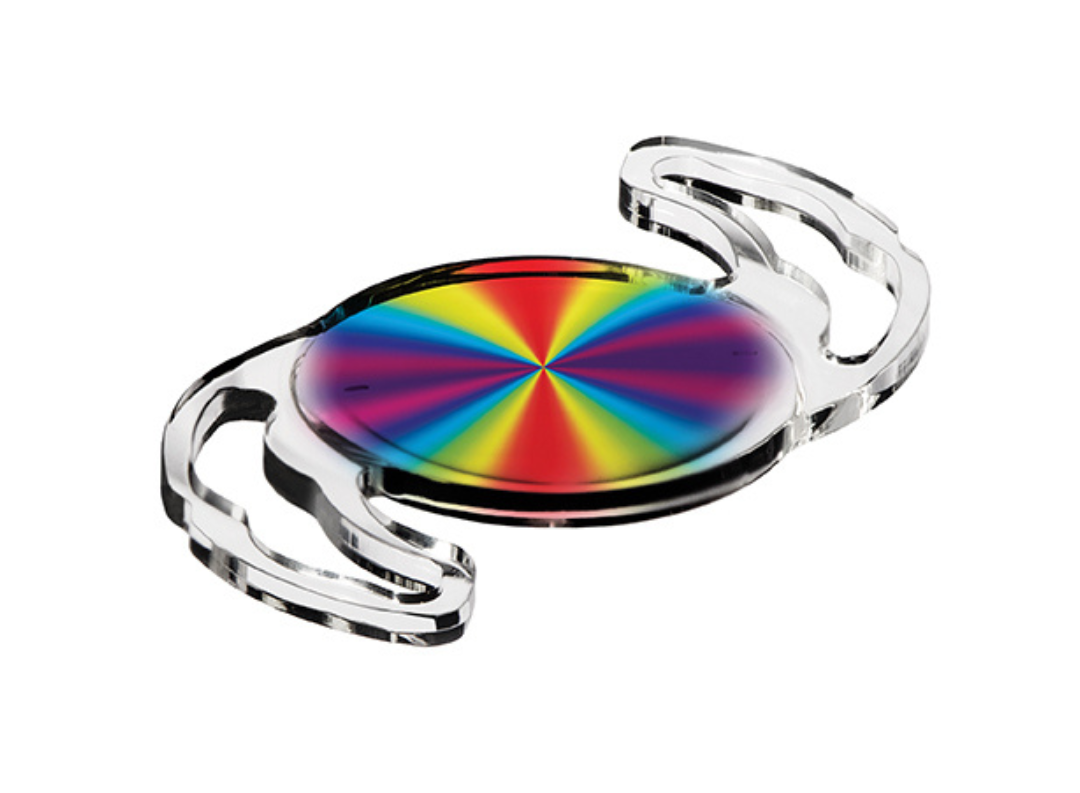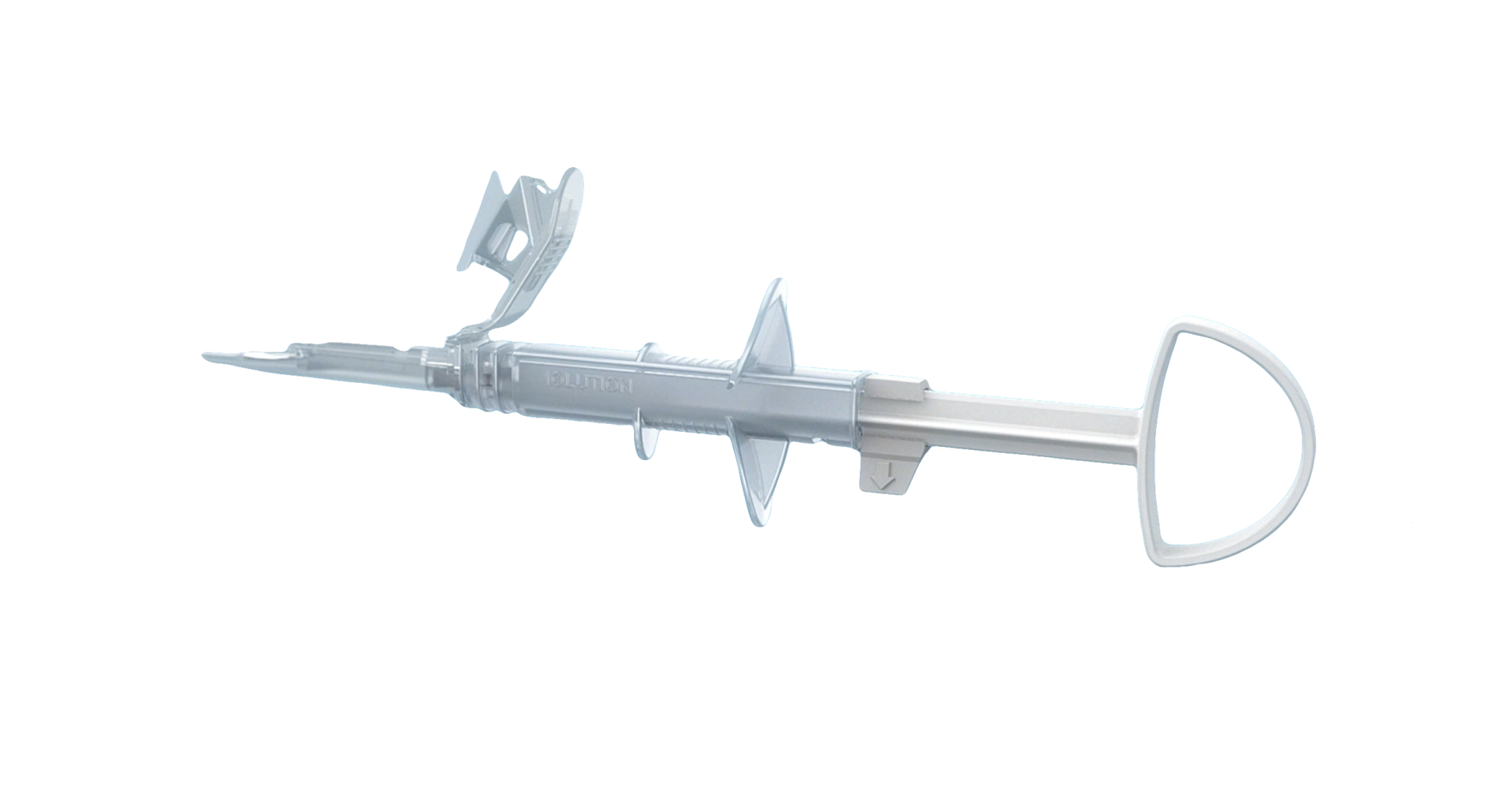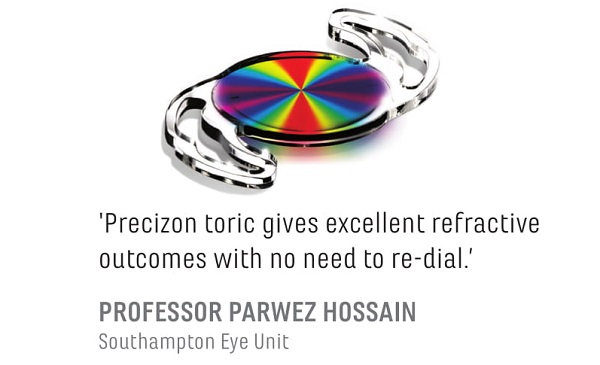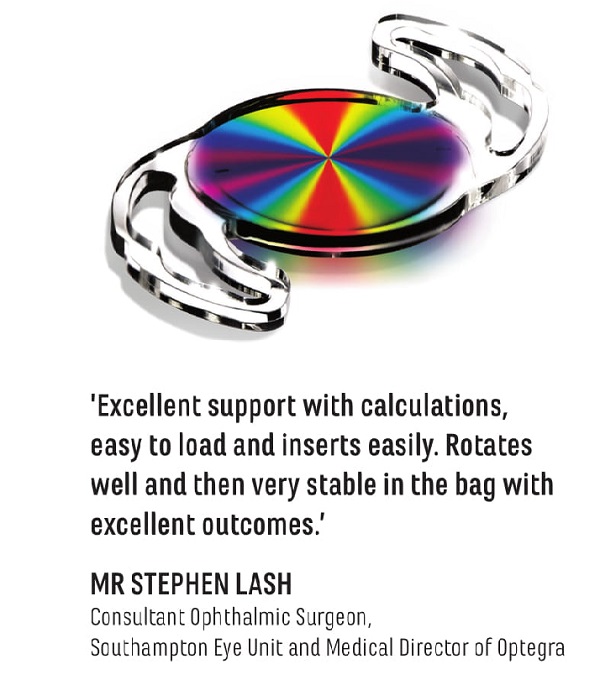 Ophtec Precizon Toric IOL 565
Precizon Toric is a hydrophilic acrylic Toric IOL, designed to be more tolerant of misalignment. Treat Astigmatism with confidence!
Mechanical Haptic Feature
The space between the inner haptic stays open with compression down to 9 mm. This enhances stability and reduces late post-op rotation of the lens, this opening is designed to allow a "fibrosis anchor".
Offset haptics reduce PCO
Precizon Toric has offset shaped haptics which enables the lens to adhere to the posterior capsule to prevent early postoperative rotation and reduce PCO.
Aberration Neutral
Precizon Toric IOL has an aspherical anterior side, resulting in aberration neutral optic.
Greater tolerance when misaligned
Transitional Conic Toric Surface (TCT) blends into the aspheric surface of all meridians leading to a broader toric surface.
This extends the depth of vision (EDOV) and keeps the toric surface in alignment with the patient's astigmatism, even when slightly misaligned.
Key benefits
Transitional Conic Toric Surface (TCT)
Average of 1.9˚ rotation reported by 'best practice'
360° square edge optic results in optimised PCO barrier
Enhanced Tolerance of misalignment
Only toric with Aspherical Cylinder and Sphere
Pupil independence
Proven stability
Injectable via 2.2mm incision
Explanation of a TCT optic
Description & Technical Specs
Lens type:
One piece IOL, In the bag fixation
Body:
6.0 mm | Transitional Conic Toric | Biconvex
Material:
Hybrid hydrophobic & hydrophilic monomers.
Ultraviolet filtering HEMA/EOEMA Copolymer
Overall Ø:
12.5 mm
Angulation:
0˚
A-Constant*:
118.0 (A Scan)
118.6 (IOL Master; SRK T) | 118.7 (IOL Master; SRK II)
0.567 (IOL Master; Haigis aO) | 0.123 (IOL Master; Haigis a1)
0.159 (IOL Master; Haigis a2)
5.27 (IOL Master; Hoffer-Q pACD)
1.53 (IOL Master; Holladay 1 sf)
Available Powers:
+1.0 D to +34.0 D (0.5 increments)
Cylinder 1.0 D to 10.0 D (0.5 increments)
Refractive index:
1.46
IOL Spherical Aberration:
360˚ | 0 µm