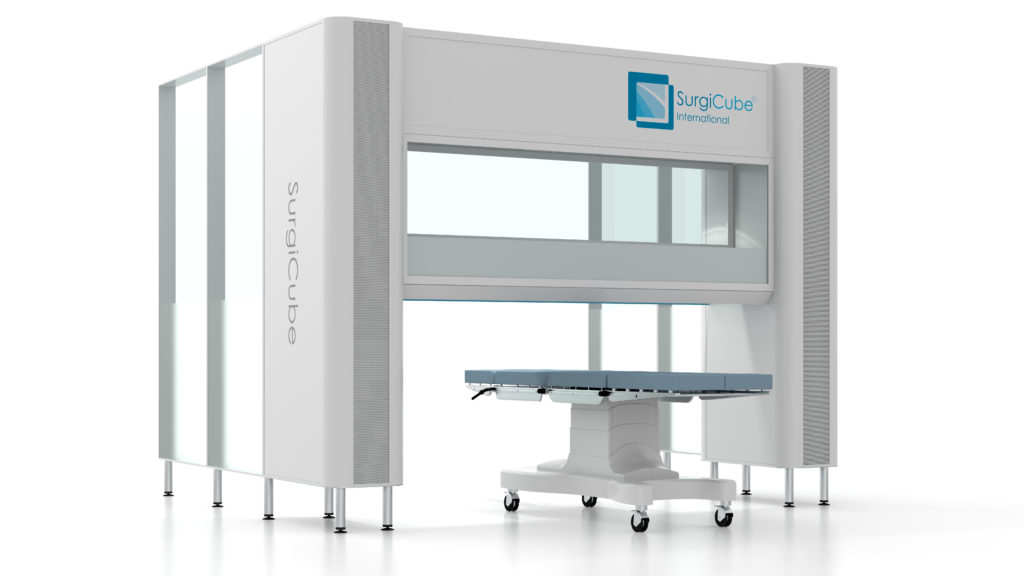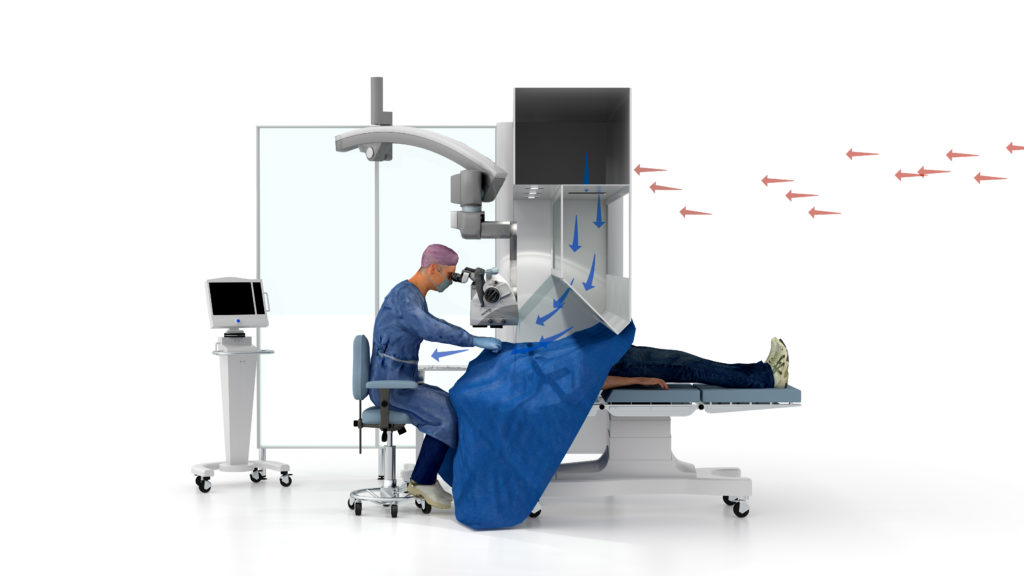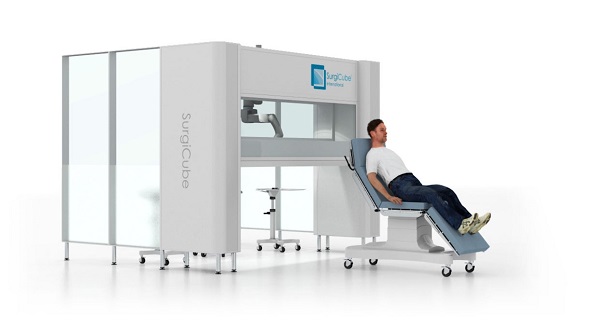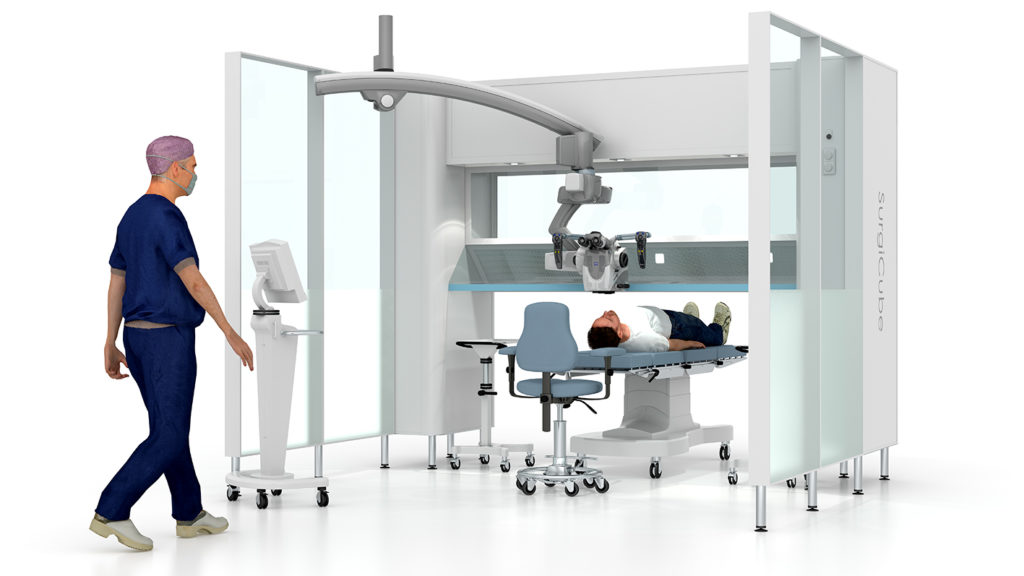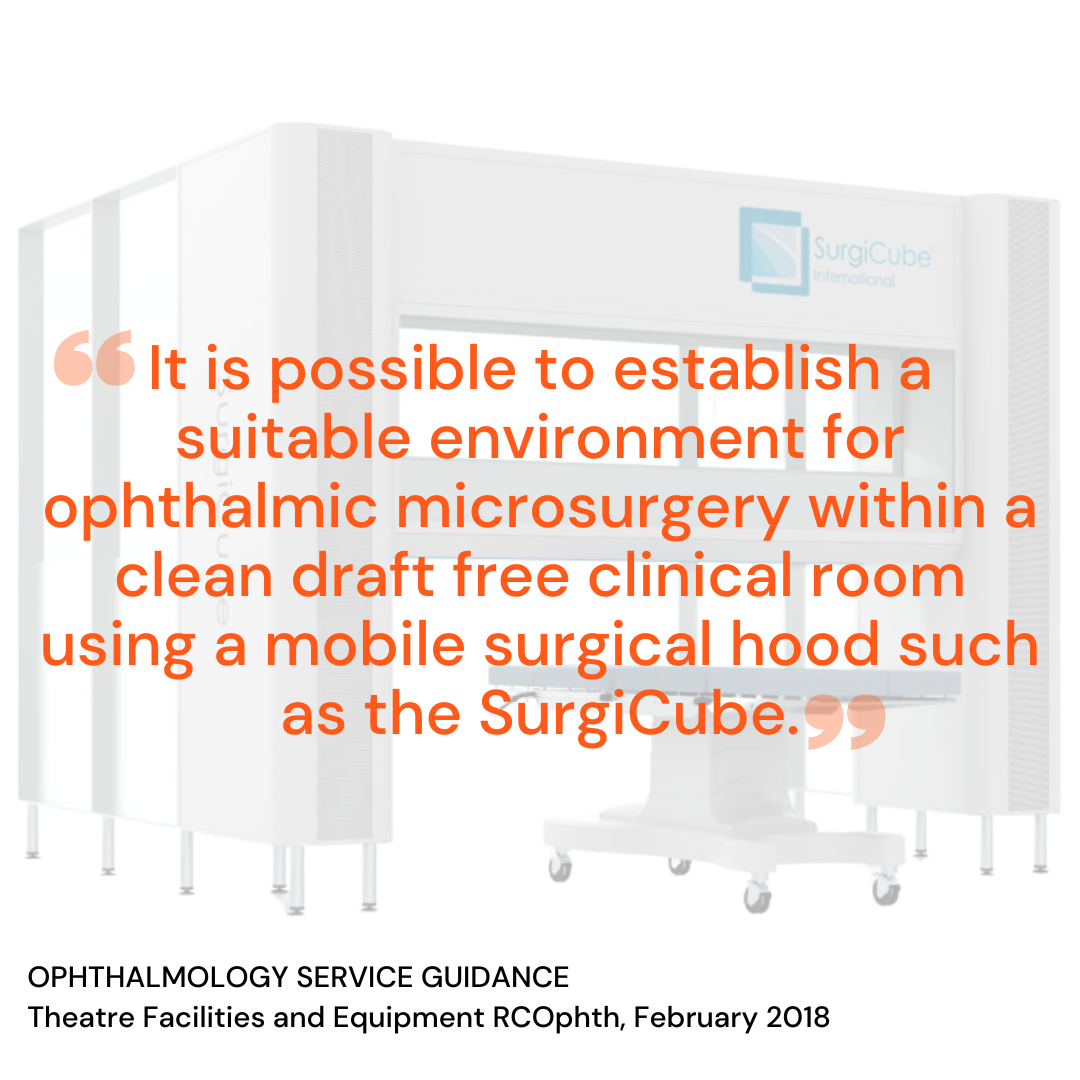 SurgiCube
Continuous, uninterrupted ultraclean air across operating surfaces.
Quickly and easily expand surgical capacity at a fraction of traditional theatre construction costs.
Ultra-clean airflow
Location independent
Cost-efficient
SurgiCube ultra clean unidirectional airflow
A clean air unit that supplies an ongoing, effective laminar flow across the operating surface and the instrument table(s). Air is uninterrupted by obstacles familiar in conventional theatre settings.
The SurgiCube is equipped with a multiple mechanical filter system, including a High-Efficiency Particle Air (HEPA) filter with an efficiency of filtering 99,995% of all particles of 0.3μm.
Ultra-clean air flows directly onto the operating surface using a unidirectional air flow technique. The unidirectional flow, together with correct surgical draping, creates a compact and manageable surgical area that eliminates airborne contamination risks for patients.
Within this field, the patient is positioned so that only the operating site (e.g. head) sits within the surgical zone with surgical teams free to move within this area without adversely affecting the clean air zone.
The unit can be placed in almost any clean, draught-free room with wipeable surfaces. The unit is 2.4 m high and is available in various widths. Because of its modular construction, it can be installed in one day and validated on the second day, after which the unit is operational. The unit's versatility makes it suitable for a variety of settings including University Hospitals, General Hospitals, Outpatient clinics, private clinics, heritage buildings with physical and design constraints and training centres.
The purchase costs amount to a fraction of the costs involved with a conventional operating room. Additionally, costs are saved on construction, housing, maintenance, and energy consumption. With an average power consumption of 160W, the main fan uses just 30% of its capacity.
SurgiCube is an innovative solution to quickly mobilise new patient pathways and increase surgical or training capacity. With clean air solutions, see your outputs rise and costs fall.
"I am delighted to have purchased a SurgiCube, as it has allowed me to build a full function eye theatre in my clinic that gives better sterile conditions than a traditional theatre. It is easy to maintain and has been so useful that it has become the cornerstone of my practice."
Professor Robert Scott, Director, Scott Health Ltd.
"This suite allows surgeons to significantly expand their cataract service and streamline patient care. As the Medical Advisory Member for Ophthalmology I am delighted with this new service."
Mr Amar Alwitry, Consultant Ophthalmologist, Woodthorpe Hospital
"It is a joy to work with. For me its created a new paradigm of sterility. Even when compared to a top-class operating theatre, I prefer working under my SurgiCube. It creates an environment in which I know I am working in super sterile air."
Mr James Ball, Consultant Eye Surgeon, Custom Vision Clinic
SurgiCube benefits:
Effective unidirectional flow: continuous ultraclean air where you need it
No hindering contamination sources in the clean area
Location independent – set up and validation in one day
Suitable for all ophthalmic procedures under local anaesthetics
Cost efficient – fast return on investment and extremely low running costs
Patient friendly – easy self-access without the need for gowning creates a more relaxing patient experience and clinical efficiencies
Operating room alternative
Clinics and hospitals often perform minor and relatively simple surgeries in a general operating theatre. This is time and labour intensive to prepare. SurgiCube is the perfect alternative treatment environment for microsurgical procedures, enabling clinical efficiencies.
Description & Technical Specs
Ultra-clean area ISO 5 up to 80 cm from HEPA filter surface. Air flow velocity 0.45 m/s.
HEPA Filter H14 Efficiency of 99.995% of particle size 0.3μm (MPPS – EN1822)
2 x Pre-filters Class G3: <5% (EN 779)
Class F7: 63% (EN 779)
Model
SC100
Outer width: 180 cm
Inner width: 100 cm
Air cleaning capacity/hr: 597 m³/hr
SC180
Outer width: 260-340 cm
Inner width: 180 cm
Air cleaning capacity/hr: 1078 m³/hr
SC200
Outer width: 280-360 cm
Inner width: 200 cm
Air cleaning capacity/hr: 1198 m³/hr
SC220
Outer width: 300-380 cm
Inner width: 220 cm
Air cleaning capacity/hr: 1318 m³/hr
Power Supply: 230 VAC, 50 Hz
Power consumption: 350 W
Electrical safety: IEC 60601-1
EMC: IEC 60601-1-2